OUR SERVICE MANAGEMENT
   We put a strong emphasis on ensuring that our customers experience fast and efficient responsiveness at all times. Our Customer Service officers or Travel consultant are well trained and in-depth knowledge to their lovely destination to not only assist customers in matters related to their booking process, but also to ease any worries and concerns that they may have throughout the entire experience. Our Travel consultants maintain a strict standard of customer service that is unique through a distinct fusion of building brand hospitality.
 ✦ Service backup by a team of professional trained ticketing/tours/travel consultants;
✦ Visa and Travel document services;
✦ Airport transfers arrangement;
✦ comprehensive travel insurance for convenience by air and sea;
✦ You are warmly welcome to contact us alternatively by email or online supports 24hrs a week we are always glad to be of assist on any matters to cease your worries. Hotline phone calls are supported 24/7 services or just one click to chat right away with our online team supports.
We offer a wide variety of services:
 ✦ Worldwide Flight Tickets;
 ✦ Worldwide Hotel Reservations;
 ✦ Tour Operator, Travel Agency;
 ✦ Outbound-Inbound tours;
 ✦ Indochina Package Tours;
 ✦ Last minute Vacation Deal;
 ✦ Passport-Visa Arrangements and Cambodian Visa Extension;
 ✦ Boat & Bus Ticket, Railways Ticket (in Japan, Vietnam and others);
 ✦ Guide—we speak your language;
 ✦ Car rentals, we own a new fleet of many vehicles' type for rent such as: TOYOTA CAMRY (Sedan 4seats), STAREX, SSANGYONG (Van) 12 to 15-seaters, HONDA CRV, PAJERO (4WD), LEXUS 470 (4WD) and nice Bus  25-seats, 35-Seats, 45-Seats (Airospace) with daily maintenance and insured by Caminco Insurance of Third Party and Passenger Liability;
 ✦ Cargo-Courier and Traveler Insurance…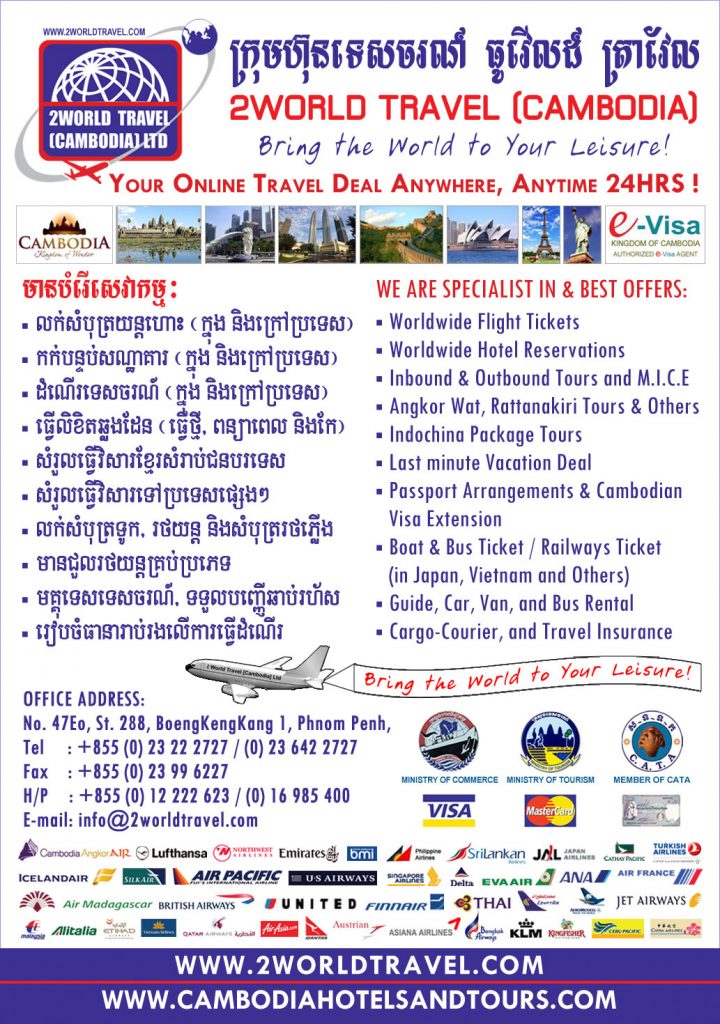 With standard rules of this customer services, some valued have been established to present our philosophies:
✦ Clients satisfaction is priority to be number one and only the sole reason that have made us exist today.
✦ Client-driven and market-driven are providing value added services supported by advanced technology
✦ We will never serve the king but a truly friend that we never left them behind.
✦ Passionate to each destination and make customer feel the same.
✦ Making our truly more easy and more accessible to the destinations.
Competitive Prices:
Do you know that, airfares price change daily? That great deal you found on your own today may be old news tomorrow? A difference of one day in departing or arriving date can save you hundred? Travel agent often has first hand experience with the place they recommend? Certified agencies have a lot more leverage than individuals when setting disputes with airlines and travel suppliers?
Dedicated Team:
We pride ourselves on being a small but dedicated team of travel professionals who can provide a super service and personal professional attention to each and every client.